Medical Malpractice Attorney in Chester County, PA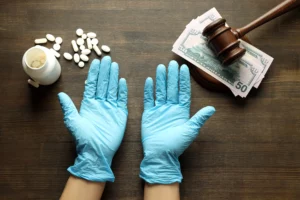 At The Villari Firm, PLLC, our proven Chester County medical malpractice lawyer works with a team of respected experts to help injured individuals recover the maximum compensation they are owed. Super Lawyers Top 50 Women in PA, Attorney Heidi G. Villari, provides her clients with dedication and undying commitment, doing everything in her power to ensure all present and future needs are accounted for.
We have dedicated our practice to the representation of plaintiffs in:
Personal injury,
Premises liability,
Product liability, and
Wrongful death actions.
This Chester County medical malpractice law firm is proud to have successfully recovered over $125 million in verdicts and settlements for our clients.
The Villari Firm, PLLC provides extensive services to our clients. It has wrongful death lawyers and catastrophic injury lawyers here to represent you in life's most tragic times. For more information about how The Villari Firm, PLLC can help you, contact us today.
Why do I need a Medical Malpractice Lawyer in Pennsylvania?
Medical malpractice can be quite grave, especially if you have undergone a particularly serious surgery or have just given birth and found that your child has acquired an injury due to medical negligence. Suffering and dealing with an injury is never easy, and you must get compensation for your damages. An attorney from a Chester County medical malpractice law firm can help with the claims filing process.
Trial attorneys are born, not made. Heidi G. Villari, an experienced Pennsylvania personal injury lawyer, works with the finest of experts, medical doctors, and lawyers in the best position to review the case from the outset. As a leading personal injury lawyer and the surrounding areas, The Villari Firm, PLLC offers comprehensive legal services to those facing seemingly insurmountable odds against those who have wronged them.
Our personal injury lawyers will work diligently, ensuring you have excellent legal representation when pursuing what is rightfully yours. With The Villari Firm, PLLC, on your side, you can seek justice with top-rated personal injury attorneys ready to fight for you and your loved ones.
What is Medical Malpractice?
Medical malpractice is the legal term used for negligence on the end of a healthcare provider, such as a doctor resulting in catastrophic injuries to a patient. Medical malpractice encompasses a series of injuries, such as:
Childbirth Injuries
Medical Misdiagnoses
Surgical Errors
Infections from the Hospital.
If you have been a victim of medical malpractice, know that getting in touch with a Chester County medical malpractice law firm is the smartest thing to do. The law firm's attorney is well-versed in the practice area and is familiar with all the defenses healthcare providers and insurance companies use and how to counter them to help you come out on top.
What are the Requirements for a Malpractice Claim?
To get compensated, you must first file a medical malpractice claim. A medical malpractice claim has several elements to it, such as the following:
Existence of a Doctor-Patient Relationship
One must prove that they enlisted the services of a medical doctor and the doctor failed to perform their services up to standard.
The Doctor Was Negligent
If you are filing a malpractice claim, you must prove that the doctor was negligent or performed negligently, thus resulting in the injury.
The Injury Led To Specific Damages
Suppose the doctor was negligent and caused severe injury to you and the said injury resulted in worsening your condition, rendering you unable to work or move. In that case, you can file for a claim and get compensated on:
Medical Bills
Lost Wages
Mental Anguish
Physical Pain
Where is Chester County?
Chester County is also known as Chesco and is located in the southeast portion of Pennsylvania in the Pennsylvania Metropolitan Area. William Penn created this county in 1682 as one of the original Pennsylvania counties. Chester County boasts a land area of 759 square miles, with the Welsh Mountains being its highest elevation point. Apart from the bustling cities, Chester County is home to many tourist destinations that you can visit.
If it's your first time in Chester County, know that there are plenty of sights to see that will give you a glimpse of how the city's life is. The Longwood Gardens, Marsh Creek Street Park, and the American Helicopter Museum & Education are just some spots you can visit in Chester County. Remember that if you are from the area and need a medical malpractice lawyer, know you can contact a Chester County medical malpractice law firm.
What are the Top Tourist Spots in Chester County, PA?
Apart from its booming businesses, there are many other sights to see in Chester County that can give you a glimpse of its culture. Some of the top sights to see include:
The Liberty Bell. The Liberty Bell is recognized as a symbol of American freedom. It weighs around 2,000 pounds in Independence Mall in the middle of Philadelphia's Historic District. Tourists can visit the Liberty Bell for free and learn more about its history and everything it stands for.
Independence Hall. In 1776, 56 delegates met at the Pennsylvania State House to pledge in the pursuit of independence. This place is now known as the Independence Hall and is a UNESCO World Heritage Site. This is also where the Declaration of Independence was signed, and the U.S. Constitution was formed.
Valley Forge National Historical Park. Valley Forge National Historical Park allows tourists to whisk themselves back to the olden days during the encampment of the Continental Army. Valley Forge National Historic Park houses woodlands, meadows, and monuments.
Chester County is more than just its bustling city life. Its rich history makes for great learning and traveling lesson for tourists. Suppose you are dealing with serious medical malpractice cases in Chester County. In that case, contacting a Chester County medical malpractice law firm is wise.
Call our Chester County Medical Malpractice Law Firm Now!
Chester County is home to grand historic spots, beautiful natural sights, and bustling, booming city life. There is no place like it. If you're from Chester County and are experiencing pain and suffering due to the negligence of a healthcare provider or medical professional, know that it is well within your rights to get in touch with a Chester County medical malpractice law firm, the Villari Firm. A seasoned attorney can help walk you through the entire medical malpractice process, from filing a medical malpractice claim to getting compensated.
The Villari Firm, PLLC is a top-rated Philadelphia personal injury law firm. For over two decades, we have fought for the rights and interests of the injured, the voiceless, and the wronged. Therefore, if you or someone you care about suffered life-altering injuries due to someone else's careless or wrongful actions, you have the right to pursue justice in the form of a civil lawsuit.
Call our law firm today to schedule a consultation! You can also visit our Philadelphia office. To get to the Villari Firm from Chester County: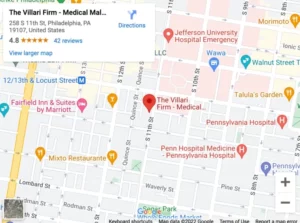 Get on US-30 E in Valley Township from Moore Rd, Heston Rd, Butterworth Rd and PA-82 N
Continue on US-30 E. Take US-202 N and I-76 to N 8th St in Philadelphia. Take the 8th St exit from I-676
Continue on N 8th St. Drive to S 11th St